Sanur Village Festival 2017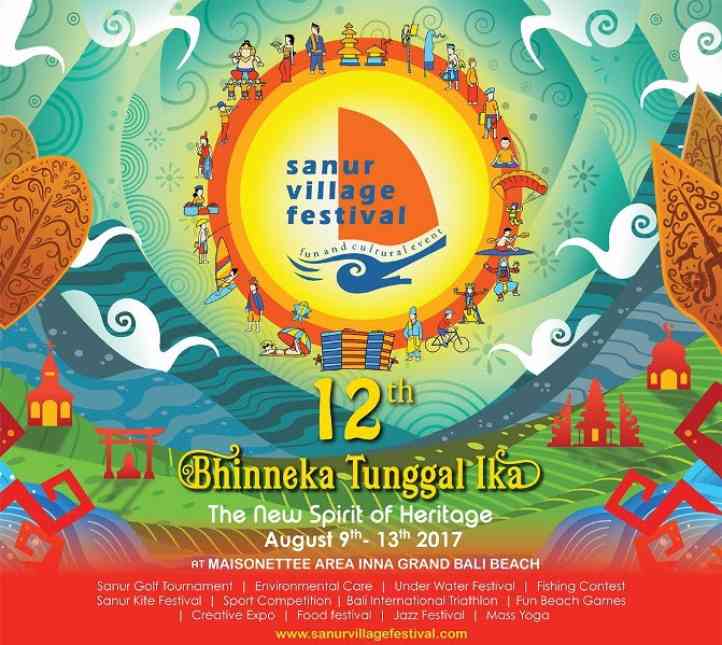 Sanur Village Festival 2017 – Annual Celebration of Arts, Culture, Environtment and Food in Sanur, Bali – Indonesia
Sanur Village Festival 2017 return this year on its 12th celebration will again light up the coastline of Sanur Beach with numerous arts, cultural, food, and environmental awareness events.
This event presents an awakening festival of Bhineka Tunggal Ika – A Unity in Diversity values of nation spirit by sending out positive messages for our nation diversity. In conjunction with Indonesia's National Day on 17 August 2017, Sanur Village Festival continuing its tagline " The New Spirit of Heritage" as reflection of a revitalized spirit to conserve both natural and cultural wonders of Sanur and the island of Bali on the whole.
Sanur Village Festival to be held from 9th to 13th august 2017 at Maisonette Area at Inna Grand Bali Beach Hotel. The festival highlightsa bazaar and food festival, fashion shows, culinary challenges, Yoga, sports activities and environmental awareness programs, international kite festival, jukung festival and Sanur Run.
As always, Sanur Village Festival will presents Balinese heritage cuisine at the bazaar for food lovers to try out. The five star Inna Grand Bali Beach its self will present their best cuisine that is available alongside traditional dishes to let you try the rich flavours of the archipelago in one spot.