10 Best Romantic Wedding Venue Bali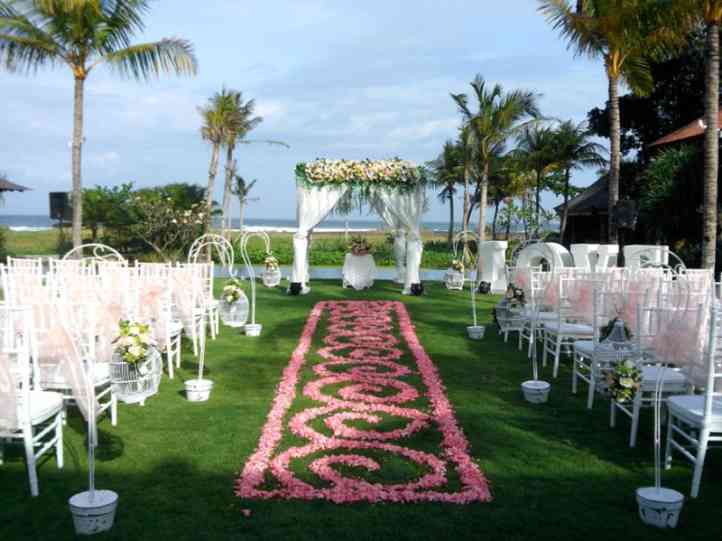 Best Romantic Wedding Venue Bali
When it comes in mind about Bali, you may say Bali is exotic and romantic place you would love to visit. Bali is famous for its breathtaking scenery, unique and rich in culture, and luxurious villas that make the island has become the dream wedding destination. Its a place for lover, family, friends, a fantastic and romantic wedding venue in Bali.
Bali has consistently been voted for the world's best wedding destination, a perfect place to get married for so many reason. Where a wedding destination tend to be a viral trend in the travel industries, there are so many wedding planners or wedding organizer in Bali and professionals keeping up to its demand to have a wedding in Bali. This island always becoming top destination wedding favorite for its setting, lavish sunset backdrop with huge garden, overlooking the sea from an enviable cliff-top, on exclusive beachfront or in a secluded oasis cradled by emerald green rice field with five star service to create memorable wedding venue in Bali. Each venue has magical touch and setting with its luxurious rooms, and tropical garden, a perfect setting to have such memorable wedding ceremony to say magical word "I do", a very special moments for their wedding ceremony, last for a couple of hours, but the memories last forever.
To have unforgettable experience for wedding villa in Bali, our luxury wedding villas offers privacy, intimacy  and splendor to mark the new beginning chapter on your relationship.
To inspire you, herewith our handpicked compile of 10 Best Romantic Wedding Venue in Bali
Amazing 8 Bedrooms Villa With Volcano And Rice Paddies View – Kaba Kaba Estate
The villa gazes northwards and eastwards across a seemingly endless expanse of rice fields view villa towards the majestic volcanic peaks of Mount Agung, Batur and Batukaru. Kaba Kaba promises guests a rare experience of Bali's rural rhythms largely unchanged over centuries. With its vast and gorgeous lawned gardens, photogenic vistas and fantastic living space, this eight bedrooms villa is an impressive venue to celebrations of all kinds acquire a special magic here, be they formal sit-down dinners for 20 or cocktails and canapés for hundreds




It's a particularly romantic wedding venue; exchange vows on the pool deck against a picture-perfect backdrop of rice terraces with volcanoes shimmering in the distance, then settle down to a candle-lit banquet on the lawn under a canopy of stars. Details of Kaba Kaba Estate
Best Option For 1, 3, 4, 6 Beachfront Villas For Wedding Venue, Larger Option Wedding Venue – Anapuri Villas
Anapuri Villas brings the highest standard of Indonesian hospitality and service to the exotic black sands of Bali's Pabean Beach. This Guy Morgan designed boutique complex consists of four private villas, each with their own unique facilities and dedicated staff. All of the villas are ultimate beachfront, allowing every guest to take in views of the spectacular Indian Ocean and the monumental silhouettes of Mount Agung and Nusa Penida Island.


Puri Salila Villa Beachfront

Anapuri villas are fitted with fully equipped kitchens including espresso machines, NAS for movies, villa dedicated staff, complimentary wi-fi, as well as having private swimming pools, private beach access and use of the Anapuri Spa and fitness centre. Details of Anapuri Villas
An Enchanting, Secluded Wedding Venue Bali Sits On Beautiful Cliff Offering 180 Degree Breathtaking Ocean View – Karang Putih Estate
Karang Putih Estate is a whole collectin of Karang Putih Villas, include Villa Karang Dua, Villa Karang Putih Ocean Bliss & El Grande, Villa Karang Nusa and all villa a whole one compound location.




Here at Karang Putih Villa, you could experience the real Bali Island, rich in greenery, surrounded by the beautiful sea and enshrining a number of Gods. A hidden paradise filled with flowers and with pure sea breeze blowing your face. Details of Karang Putih Villa
Indulge In The Sunset And Ocean Front Wedding Venue – Arnalaya Beach House
This luxurious Wedding venue offers 5 bedroom beachfront villas, designed by award-winning Singaporean firm, CSYA. Arnalaya was created in harmony with its oceanfront setting, delivering an impressive array of indoor and outdoor spaces for guests' enjoyment.
ARNALAYA BEACH HOUSE
ARNALAYA BEACH HOUSE CANGGU
ARNALAYA BEACH HOUSE CANGGU BALI
ARNALAYA BEACH HOUSE CANGGU BALI
This luxurious canggu villas of Arnalaya Beach House, delivers exclusive use of five bedrooms of 55-60 square meters each, indoor and outdoor dining and entertainment options, 20m pool, spa, gym, games room, and a world-class tennis court. Details of Arnalaya Beach House
Amazing Contemporary And Ecletic 12 Bedrooms Beachfront Villa – Morabito Art Villa
Located in the midst of a flowery one-hectare tropical park, Berawa Canggu. Morabito Art Villa is a juxtaposition of contemporary art and antiques.
Morabito Art Villa Canggu

morabito-art-villa
Morabito Art Villa Canggu
Morabito Art Villa is the ideal venue to hold your perfect day! With it's one hectare park standing right on the beach and a breathtaking view of the sunset. The large garden offers a perfect set for your ceremony and spacious area to accommodate your guests, from intimate weddings under 30 people to large events up to 1000 people. We also have a dance floor, cocktail in the tree house, pool area, bars and 14 suites and bedrooms for your family and friends. We will help you find the best catering and wedding organiser, for this day to be unforgettable! Details of Morabito Art Villa
A 7 Bedrooms Beachfront Villa Combination of sustainable luxury Based On the Balinese Philosophy Of Tri Hita Karana – Taman Ahimsa
Taman Ahimsa is designed to resemble boat hulls, sacred spirals and seashells – appropriate symbols for this idyllic retreat. An Ocean front on Bali's South-West Coast, designed mix of nature and organic that blend together in perfect synergy.
Taman Ahimsa Beachfront Villa Bali
taman ahimsa beachfront villa
Taman Ahimsa Beachfront Villa Bali
Taman Ahimsa Beachfront Villa Bali
Organic materials uses at Taman Ahimsa, to enhance the tropical ambience created by natural surroundings. You can see the natural approach through thatched roofs grass, rattan furniture and natural stone and bamboo veneers at this property. Details of Taman Ahimsa
A Tranquil Oasis Facing The indian Ocean With Option Of 2, 3, 4, 6, and 12 Wedding Venue – Shalimar Villas
Shalimar Villas, a beachfront villas in Seseh with a frontal beach line as wide as 150 meter lies this oasis of three luxurious, spacious villas; in the traditional village of Seseh, on Bali's south west coast.




Contemporary tropical architecture, vast open air living spaces and an abundance of light intermingles with the soft sound of the waves, a myriad of exotic green and sweet scented frangipani trees to bring you a holiday retreat that you will simply never want to leave. Details of Shalimar Villas
8 Bedrooms Retreat Within Extensive Landscaped, Surrounded By Emerald Green Rice Paddies And Gentle Flowing River – FC Residence
located just 500m from the beach in Canggu and only 10 minutes from the Canggu Club, provides privacy yet suits social connections for groups, families, friends, yoga retreats, corporate events and intimate wedding celebrations.




Whether you are planning your intimate wedding day and ceremony, a fun dinner party, family reunion, birthday celebration or a relaxed pool party in luxurious surroundings FC Residence is an ideal venue with private catering and cocktail bar on site. Details of Fc Residence
Photogenic Backdrop With Spectacular Views Across The Badung Strait and Indian Ocean to Bali's Mt. Agung and the Nusa Lembongan and Nusa Penida islands – Jeeva Saba
Villa Jeeva Saba set on nearly a hectare of landscaped gardens and provides spacious living and sleeping areas, offers spectacular Ocean view from each room that can accommodate up to 16 adults.
JEEVA SABA ESTATE
JEEVA SABA ESTATE
JEEVA SABA ESTATE
JEEVA SABA ESTATE
The main living, dining and communal rooms of Villa Jeeva Saba overlook the 25 meter swimming pool and relaxing bale by pool side. With views of the ocean out beyond, this grass lawn is the ideal setting for events and can easily seat up to 200 guests. Meanwhile, the dining table can seat 20 people for more intimate dinner parties. Details of Jeeva Saba
Peacefully Villas Located In Rural Village Overlooking The Indian Ocean – Seseh Beach Villa
This contemporary-style thatch-roofed Ocean View Villa Bali comprises a pair of two storey buildings with dining and living in between, delightful rooftop terrace, five air conditioned bedrooms, ensuite bathrooms. A flat lawn and open-side dining and living pavilions are situated either end of a 16.5 meters swimming pool
seseh beach villas
seseh beach villas bali
seseh beach villa
seseh beach villa
Complemented by sophisticated facilities, caring staff and superb service, Seseh Beach Villa offers a lovely setting for weddings and events, and is great for families and groups of friends who are looking for a luxurious out-of-town escape. Seseh Beach Villas are perfectly located and set-up for weddings and special events. Parties of up to 70 people can be arranged at the villa with prior notice. Details of Seseh Beach Villa